International Exhibition
During the Conference days from May 09-10, 2023 an international exhibition will take place.
During the breaks and during the Come-Together Reception on 09.05.2023 you will have the chance to visit all booths.
Get to know latest products and services in the field of lubrication
Meet long-time business partners
Find, connect and talk to international decision makers!
These exhibitors are registered for the OilDoc Conference 2023: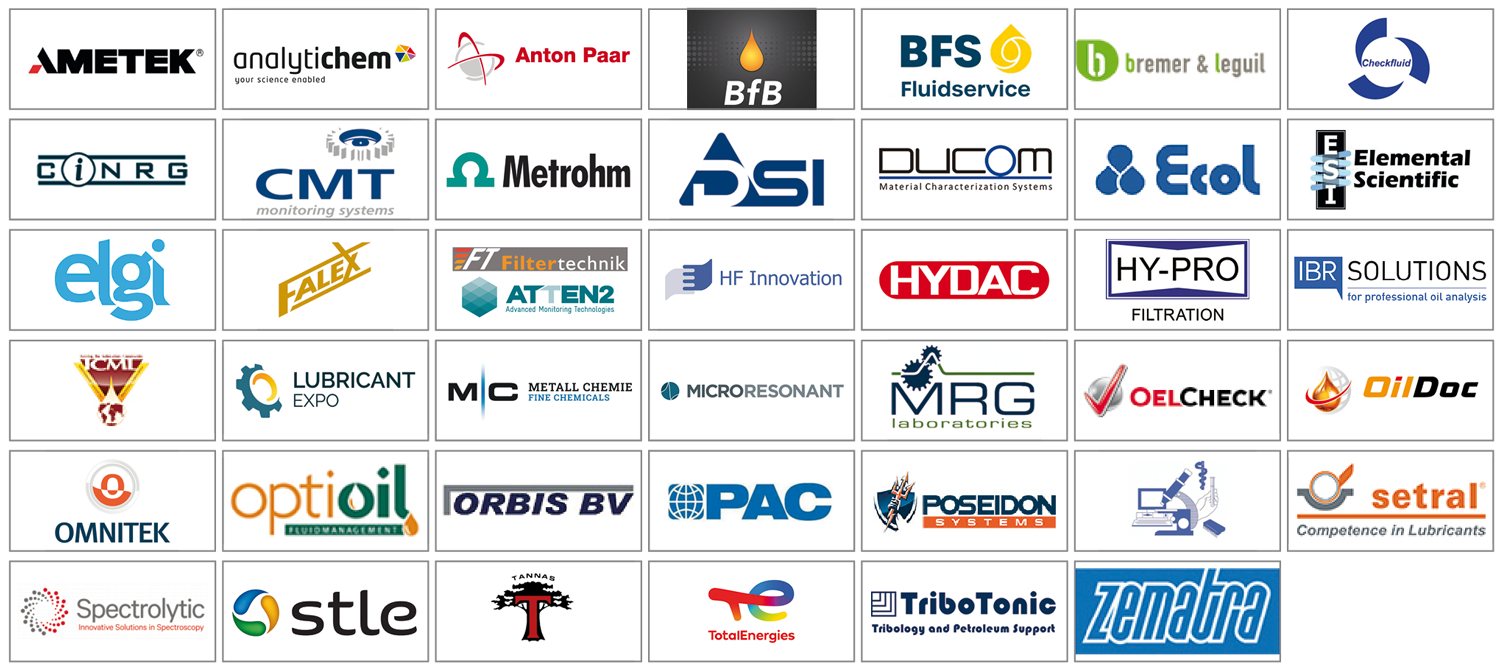 Optioil GmbH
Optioil with its headquarter in Cloppenburg is your reliable and experienced partner regarding all questions on fluid management. Whether oil analysis or cleaning measurements, purifying or filtration technology, Optioil offers a widespread scope of service for any kind of fluid application

OELCHECK GmbH
The leading laboratory for lubricant and operating fluid analysis in Europe offers more than 90 different test methods for the analysis of oils, greases, coolants and fuels. OELCHECK analyses and comments more than 300,000 samples every year. These numbers result in an enormous database with over 3.4 million analysed samples.

Elemental Scientific Inc.
Elemental Scientific offers superior Automation and On-Line Monitoring Systems for oils and lubricants.

Zematra B.V.
Zematra is the reliable partner in testing and analysis for the (petro)chemical, food, pharmaceutical, paint and marine industry. They offer companies in these branches the best instruments for various applications, such as lube oil analysis.

Bremer & Leguil GmbH
With the Rivolta brand, Bremer & Leguil has been leading the way in the industrial sector for decades. The wide-ranging portfolio of special cleaners, lubricants, corrosion protection systems and maintenance products has always represented reliability in maintenance, servicing and production. Since October 2010, Bremer & Leguil has also added the CASSIDA brand, tried-and-tested around the world, to the range. This allowed to gain a brand which covers another large sector, that of highperformance lubricants for the food industry.

Poseidon Systems
Poseidon Systems develops and manufactures real-time condition monitoring solutions that provide users with reduced O&M costs and improved asset reliability. Their core expertise is in oil condition monitoring sensors, particularly metallic wear debris monitoring and oil condition monitoring (OCM). They also support the design and production of customer-specific sensing and monitoring solutions.

AnalytiChem Holding GmbH
AnalytiChem Holding GmbH is a family of companies providing high-quality analytical chemistry and reference materials to laboratories around the world.

Omnitek BV
Omnitek manufactures automatic kinematic viscometers and has been in the market for over 40 years. Their viscometers are suitable for petroleum products, petrochemical fluids and diluted solutions. Omnitek provides to all their customers around the globe localized service and application support through a network of dedicated distributors.

Metall-Chemie Holding
Metall-Chemie has been successful for many years in the production and international distribution of additives for the lubricant and grease industry. The product portfolio includes different types of lubricant additives for oil- and water-based applications.

TriboTonic
TriboTonic is a Petroleum and Tribology company that can help find solutions to your friction, wear or lubrication challenges. They offer a range of bespoke services tailored to their customers needs delivering instrument sales, servicing, support and can offer advice on a wide range of tribological problems.

BfB - Oil Analysis & Research
With more than 25 years of experience, BfB Oil Research assits its clients in solving their lubricant development issues, in evaluating technical and environmental performances, in quality control of lubricants, …, with tailor-made R&D solutions.

Falex Tribology NV
Falex is the European expert and technical support centre on friction and wear.

NYNAS
Nynas Naphthenic base oils provide solutions for the most challenging applications with a versatile portfolio and a broad range of viscosity and properties. They are a global leading supplier to the metalworking, lubricating grease, industrial lubrication, automotive, refrigeration industry and more markets.
Checkfluid Inc.
Checkfluid provides the oil sampling valves and accessories needed to draw representative samples safely and quickly from pressurized and non-pressurized systems. New products include convenient pushbutton and metric port options.

HF INNOVATION GMBH
HF-Innovation is a company that creates individual solutions in sample analysis together with the respective customers. They  develop and deliver complete semi- and fully automated solutions for laboratory systems from preparation to fully integrated analysis.
Through their years of experience in automation, they improve the quality & precision of analytical data and efficiency in any laboratory.

CM Technologies GmbH
CMT is a specialised manufacturer for on-line and on-site condition monitoring solutions. The CMT equipment enables onsite engineers to make on the spot informed decision helping with the daily maintenance job.

TotalEnergies Lubrifiants
A full range of high performance automotive, industrial and marine lubricants recommended by ajor OEMs and supported by comprehensive portfolio of services (classical/digital/IIOT) for condition monitoring equipment and lubricants.

MRG Labs
Grease Analysis. Grease Thief Sampling Kits. Grease Laboratory and Mini-Lab Instruments.

HY-PRO Filtration
The goal at Hy-Pro Filtration is to maintain the reliability of your hydraulic and lubrication systems and optimize your equipment at peak productivity. The innovative filtration products solve a range of contamination challenges, including lube oil varnish, phosphate ester fluids and many more.

CINRG Systems Inc
CINRG Systems Inc offers a range of flexible laboratory solutions including our patented Automated Auto-diluting Particle Counter, and the new Houillon Viscometer Automation system.  CINRG also offers a cloud-based LIMS and client extranet that enables oil analysis laboratories, oil companies, and third-party providers to offer Internet-based lubricant evaluation and reporting systems to their customers.

Spectrolytic
Spectrolyticprovide Inline and Portable options for Oil Condition Monitoring in the same units and accuracy as standard oil labs.

Micro Resonant Technologies GmbH
MicroResonant provides measurement technology based on resonant sensors to measure viscosity and density. Their ocus is on the most precise and reliable analysis of vibrating structures. Recent advances in high-performance digital technology allows using sophisticated signal processing methods for the analysis of resonances directly at the sensors. Thus, the measurement performance of this sensor class can be significantly enhanced opening up new fields of applications.

PAC Walter Herzog GmbH
PAC is the leading manufacturer of lab and process analyzers for gas chromatography, elemental analysis and physical properties. The PAC portfolio includes: AC, Advanced Sensors, Alcor, Antek, Cambridge Viscosity, Herzog, ISL, PetroSpec and Phase Technology.
IBR Solutions GmbH
IBR offers the all-inclusive package for oil analysis. It doesn't matter whether it's sample bottles, sampling devices, personalized sampling sets, oil sensors or personal advice. They are experts on the subject of oil condition monitoring (OCM).


Lubricant Expo
Lubricant Expo brings together the lubricant community and its customers with a free-to-attend exhibition and conference, providing visitors with the knowledge and suppliers they need to reduce costs, improve efficiency, progress development and maximise the performance of their products and equipment. 

HYDAC Filter Systems GmbH
HYDAC filters and filter systems support oil and fluid conditioning, which helps to make your system run safely and efficiently.
When it comes to filtration technology, HYDAC is a market pioneer. For decades, our product range has included efficient and safe filtration solutions for hydraulic and lubrication oil, water, fuel, coolants and other processing fluids.

ELGI – European Lubricating Grease Institute
The ELGI is an independent, self-governing institute, financed solely by members. It is one of a group of scientific and technical institutes active in the field of tribology dealing with lubricating greases and associated products. The institute is involved in all aspects of this product group, particularly those concerning the technical, economic, ecological and legislative positions in Europe.

ORBIS BV
Petrochemical analytical instruments and oil analysis (Cloud Point – Pour Point – Cold Filter Plugging Point – Distillation)

Setral Chemie GmbH
Setral develops and produces high performance lubricants and maintenance products for industrial applications.

Deutsche METROHM GmbH & Co. KG
Titration systems for the determination of TAN/TBN and water. Ion chromatography systems for the determination of chemical parameters in cooling lubricants. Raman and NIR systems for the identification and determination of chemical and physical parameters in lubricants. Voltemmetry systems for the determination of antioxidants in lubricants.

Filtertechnik
Filtertechnik introduces digital imaging particle counting solutions. Digital Imaging sensors are available as stand-alone ensors or as part of a portable oil analysis kit.

Ducom Instruments
Ducom makes test instruments for evaluation of all types of mechanical and tribological properties of materials. They are the leading supplier of tribometers to industry and academia for wear, friction and lubrication studies for research and quality assessment.

R. Wölfel Analysentechnik GmbH
The company R. Wölfel Analysentechnik GmbH has been active for more than 30 years in the field of analytical technology with a focus on petrochemistry, tribology and elemental analysis and is based in the Hanseatic city of Hamburg.

Delta Services Industriels
At the DSI R&D center new sensors for real-time assessment of engine oil condition in terms of metallic particulates content have been developed.

ECOL Sp. z o.o
Ecol Sp. z o.o. for 30+ years, has been developing technologies related to the lubrication engineering, industrial cleaning and machinery diagnostic based on oil analysis. Ecol company became a Polish leader in the area of hydrodynamic cleaning, used for repair and conservation work in power industry. The company also provides Turbine Foam Cleaning service for gas and steam turbines flow paths, distribution of oils and lubricants supported by the most up-to-date oil service.

AMETEK Scientific Instruments
Fluid analysis instruments for evaluating machine and lubricant condition.

ICML
ICML is a global non-profit organization dedicated to helping lubrication practitioners succeed in their professional careers. ICML certification exams are in accordance with ISO 18436 and are available worldwide, in multiple languages. 

Anton Paar Germany GmbH
Anton Paar develops, produces and distributes highly accurate laboratory instruments and process measuring systems, and provides custom-tailored automation and robotic solutions. It is the world leader in the measurement of density, concentration and CO2 and in the field of rheometry.

BFS - Braun Fluidservice
Whether oil analysis, oil filtration, oil drying, varnish treatment, system optimization or revision of complete oil systems: With their innovative filtration technologies BFS Fluidservice offers you individual solutions and an ideal contact in all areas of fluid service.

Tannas
Laboratory instruments & scientific testing equipment for engine oil, lubricant and fluid research