Organizational matters for the exhibition
Opening hours for the exhibition
Wednesday, Nov 17, 2021
8.00 am – 8.00 pm
Thursday, Nov. 18, 2021
8.00 am – 5.30 pm
Venue
KUKO Kultur- und Kongresszentrum
Kufsteiner Straße 4, D-83022 Rosenheim (near Munich),
Germany
Virtual tour at www.kuko.de
Setup/Dismantle
Setup
Tuesday, Nov. 16 2021,
4.00 pm – 8.00 pm
Dismantle
Thursday, Nov. 18, 2021,
5.30 pm – 7.00 pm and/or
Friday, Nov. 19, 2021,
8.00 am – 2.00 pm
Please note: During setup and dismantle everybody needs to wear a face-mask!
Delivery and collection
Advanced shipment to the following address
Company name
c/o KuKo Veranstaltungs- und Kongress GmbH
Name contact person at the booth
booth # XX
OilDoc Conference and Exhibition 2021
Bühnenanlieferung
Salinstr. 1 ½
83022 Rosenheim
Germany
Please note:
Advanced shipment will be accepted from Tuesday, Nov. 16, 2021. Pickup must be effected at latest until Friday, Nov 19, 2021 2.00 pm.
Please be aware that shipments may be liable to customs duty. All charges have to be covered by the shipper. Deliveries will only be accepted if all charges have been prepaid.
Delivery during setup
Loading and unloading is permitted during setup and dismantling time in the following delivery zones:
The parking area P2 can be reached by car and transporter with a maximum height of 2.10 meters. 
Nearby the entrance there is a lift (signposted as disabled lift). Use this lift to get to the conference-foyer.
The driveway via entrance B is only useable up to the gate (close to the venue).
Bulky or heavy goods can be delivered via entrance C.
Please note: Floor loading: Maximum 500kg/m² indoors as well as at the area in front of the main entrance.
How to get there
The Kultur+Kongress Zentrum (KU'KO) is within easy reach via motorway A8. Use exit "Rosenheim" and follow the B15 toward Landshut. In the city centre the signposts Parkhaus P2/Kultur + Kongress Zentrum (KU'KO) show you the way to the Congress Center.
Address for delivery: 
Kultur+Kongress Zentrum Rosenheim, 
Salinstraße (between No. 1 and 2), 83022 Rosenheim, Germany
Especially for busses or trucks please follow the instructions of the area map.
Booths
The booths are system stands with white side- and back-panels and one regular chair.
Dimensions
2×3 m or 3×3 m; standard height is 2.50 meters.
Booth No. 37 – 32 2 metres only!
Floor
The venue is equipped with a parquet floor. Therefore no carpet is necessary.
Power connection
Each booth is equipped with a multiple socket strip (3 sockets/ 220V/16 Amp).
Lights
We recommend per rear wall 1 Long arm Spot. Please order through our Order list for additional equipment
Please note
Booth panels must not be damaged by using nails, pins or glue.
Additional equipment – Order rental funiture
Chairs, tables, shelves, spotlights, further power sources etc. can be booked separately.
Hygiene and safety standards
Participation in the OilDoc Conference requires adherence to the 3G Plus Rule (vaccinated, recovered, negative PCR test). Therefore, for admission it is necessary to have:
a valid identification document and 
proof of complete COVID-19 vaccination protection or 
proof of recovery or 
proof of negative PCR test, PoC PCR test (no more than 48 hours old)
Due to the applicable 3G Plus Rule, the mask requirement and the minimum distance requirement are waived during the both conference days. So networking will be possible almost like before the pandemic.
Exhibitors are required to regularly disinfect their exhibits. OilDoc provides cleaning agents for this purpose.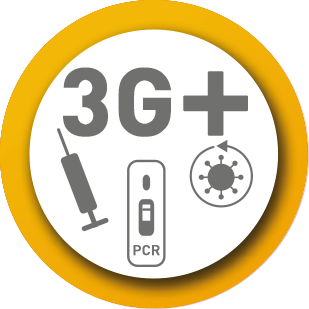 Liability
OilDoc GmbH does not take any duty of care for exhibits brought onto the site, for standard equipment or for objects owned by the persons working on the stands. Moreover the organizer assumes no liability for damages resulting from third parties or ones due to force majeure. The exhibitor is liable for all damages to individuals and/or objects which are caused by him, their legal representatives, agents or assistants
Force majeure
If OilDoc GmbH is not able to hold this event due to force majeure or other circumstances beyond their control, they can cancel the event. In this case the entitlement to the participation fee shall lapse. If OilDoc GmbH is forced to cancel the event due to force majeure or other circumstances beyond their control before the event´s its official end, the participants do not have any right to claim for refund of the fee paid.